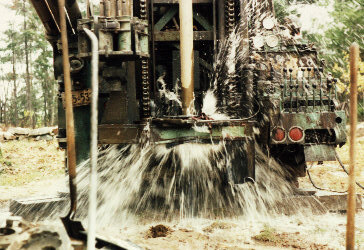 Marshall Well Drilling was founded by Carl Marshall in 1974. The company is now owned by Amy Marshall, neice of the founder, after her father, Jack Marshall, owned and operated for many years. The business operates throughout the Near North regions of Muskoka, Georgian Bay, Almaguin, Haliburton, and Nipissing.
Marshall Well Drilling is licenced by the Ministry of the Environment Ontario. Marshall wells produce more water every minute of the day than almost any other source of water north of Toronto. The business, located in Emsdale, Ontario, is just north of Huntsville in the "Heart of Ontario's Near North".
Fortunately water is extremely abundant in this part of the world. That and the quality of naturally filtered water and four season reliability of a drilled well, has made Marshall Well Drilling a household name for drinking water. Marshall wells are also used for heating homes in the long, cold Canadian winters and air conditioning them through the short yet intense summer season with the use of a geothermal heat pump. The energy savings and improved quality of living pay for the well and heat pump system within a few years.
We are now a Canadian GeoExchange Coalition Qualified Company and pleased to offer you GeoSmart Energy ground source heat pumps.